... you will find something you may not have expected this year!
Let's face the bad news first: No new HRP... yet! While there has been quite some comm activity since v5.3, it just wasn't enough to justify an updated version for the time being. We are waiting for Roma Loom to finish some additional textures to make it more worthwhile for you. No need to despair, though - we are confident that we can present a release to you early next year.
In the meantime, ReaperMan got busy with voxel stuff again. After two years, he is finally coming up with the Voxel Pack v1.1 which adds new voxels for five pickups, seven switches and several props.
Last but not least: In my previous news, I talked about the EDuke32 Addon Pack. Well, what should I say? It's finished after working on it for over 1.5 years (with several interruptions, I admit)! At the end, 60 addons with over 670 levels (more than 1.1 GB of data) have been compiled, many of them carefully fixed and polished for smooth operation with EDuke32. You will find classics there like Last Reaction & Water Bases or The Gate just as well as recent (and excellent) releases such as Metropolitan Mayhem or Duke Hard.
Setup is quite easy: After downloading and decompressing the file into your EDuke32 installation dir, launch the game with an additional -jaddons parameter. Afterwards, you will see a huge list of addons in the launcher like this: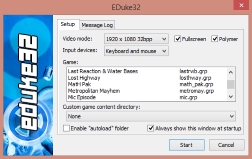 A heartfelt thank-you to all the mod authors I was able to contact for their kind permissions to make this possible! If you want to know more about the impressive scale of this project, just take a look at the readme file. You will realize one thing: With this, you won't get bored any time soon during the holidays!
Before I forget it: You can download both the voxel and addon pack in our Download section as usual, of course.
We hope you like what we stuffed into Santa's bag. On behalf of the Duke4.net Community: Merry Christmas and a Happy New Year to all of you!